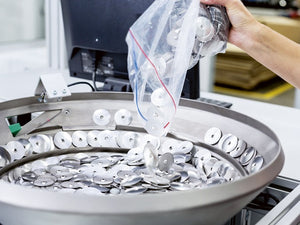 Hundereds of parts in-stock, ships within 2 business days
We sell genuine JURA parts ordered directly from the factory in Switzerland.  Original parts ensure that you get the best possible performance from your JURA coffee machine for the years to come.  Commonly replaced parts include brewing unit, water pump, and coffee grinder assembly.  Be sure to order an oval head screw removal key with your parts order.  It is required to remove the oval head/rivet looking screws to remove the side and top panels of your JURA.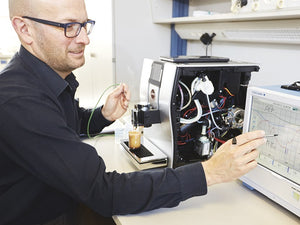 Get your JURA coffee machine professionally repaired
Allow one of our certified JURA technician to professionally repair your JURA coffee machine. We are the leading JURA coffee machine repair center based in Lansdale, PA.  We've been servicing JURA automatic coffee machines since 2002.  We ensure that your coffee machine makes coffee like a new one.  Repair includes brew group disassembly/cleaning/rebuilding.  Re-calibrate and clean out the coffee grinder and properly descale your machine.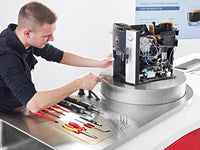 We Specialize in Repairing JURA Coffee Machines
Over 15 years of experience repairing JURA and Capresso automatic coffee machines.  60 days repair warranty on parts and labor.  Our repair center in based in Lansdale, PA.  Repair turnaround time is 5-7 business days from the date we receive your machine.
Learn More
Customer Testimonials
I rarely write reviews, but I was just so blown away with the communication, service and professionalism of Services Unlimited I simply had to share. Tommy's accessibility was phenomenal...even responding on Sunday and after hours. These guys go out of their way to put the customer first. I enthusiastically recommend them for your service needs. They will not stop until you are satisfied. (Jura Z7 10K cup service, good as new. Thank you!)

G Man
From the day I contacted them, they were immediately responsive. Sam called me to see how he could help. He gave me all the information I needed to send my beloved unit in for repair. Within 2 hours, my unit was on the way to them. Sam and I communicated by text on the progress of the repair, and within 2 weeks I had my Impreza Z5 back and brewing delicious coffee again. They are fantastic!!!

Kathy L.
Outstanding service. Tom called me within hours of receiving my Jura machine. He asked me exactly what was happening with the machine. We spent about 5 minutes discussing the problems I was experiencing. He quickly repaired and reconditioned the machine and sent it back to me the next day. I consider it to be a job very well done at a reasonable price. Shipped to him on Monday, and back on Thursday. Can't beat that!!

Steve F.