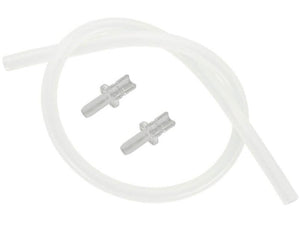 Jura Milk Siphoning Hose with 2 Connectors
Milk Tube 250mm (10 inches length), with 2 connectors. One connector is inserted into the machine, the other end is connected to the Cool Control or Jura Milk Container.  If you don't have the milk container or Cool Control device, then no need to use the second connector.
Please note that you are likely using the old style black connectors that are no longer available.  These transparent connectors are redesigned to prevent mold and fungus build up inside the milk connectors that are not visible in the black connectors.  The new transparent connectors fit seamlessly with the transparent milk hose.
Compatible Models
E8
J6 - J9 - J80 - J90

S8 - S9 One Touch - XS90 One Touch
Z5 - Z6- Z7 - Z9
XJ9
Jura Milk Siphoning Hose 10 Inch Long with 2 Connectors
has a rating of
4.9
stars based on
12
reviews.