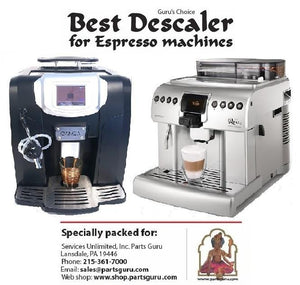 Best Descaler for Jura Super Automatic Espresso and Cappuccino Machines
6 individual packs. Dissolve the packet Descaler to remove calcium sediments from water passages inside the Jura super automatic espresso machines. Jura machines display FILL SYSTEM error due to lack of descaling. Please do not use Clearyl filter in Jura machines. Clearyl filter is expensive and ineffective and does not remove calcium sediments from water. Use of Reverse Osmosis or distilled water is not recommended. Water softener installed in the water supply is the best solution.
Descale your Jura espresso machine every six months to extend the life of your machine and enjoy a flavorful espresso with thick golden crema.
Guru's Choice Best Descaler 6 Packs
has a rating of
5.0
stars based on
4
reviews.